Need To Sell Your Property Now? We Can Make A Cash Offer And Close Quickly...
We buy houses in any condition, situation, location, size, price - CONTACT us today!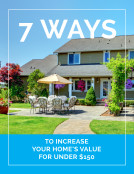 Get Your Offer NOW
Get your CASH offer and your FREE copy of "7 Ways to Increase Your Home's Value for Under $150"